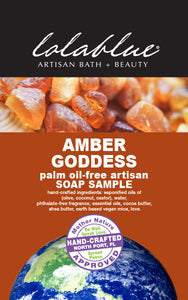 Great travel size, stocking stuffer or try me size.
1.5oz. size comes bagged with a card (shown) with scent name on it.
Amber Goddess: Our Amber Goddess scent is a complex herbal yet rich base of vanilla, musk and sandalwood well balanced by lively top notes of jasmine, lavender and orange. Infused with six essential oils of orange, lavandin, copaiba, balsam, lemon and grapefruit.
Made with PH adjusted beauty water. Palm oil-free. We do our part to protect the rainforest by choosing not to use palm oil.
Hand-crafted North Port, Florida.
Ingredients: 100% saponified oils (olive, coconut, castor), organic cocoa butter, shea butter, phthalate-free fragrance, essential oils. LOVE.